Moose Jaw Store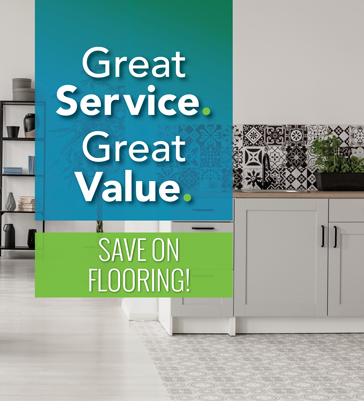 Store Hours
Mon-Fri: 9:00am - 5:30pm
Saturday: 9:00am - 5:00pm
Sunday: Closed
Comfort is just a step away.

Experience the texture of our vinyls and laminates, feel the different types of carpets, or run your hand over the distressed wood finishes. We offer it all.

Beautiful New Showroom

Our showroom has been designed to impress! You'll be sure to discover new product ideas and colour selections, as well as the classic favourites and the most popular flooring options.

Huge Selection

Choose from a huge selection of samples. You'll find our store to be spacious and beautifully presented. And of course, our consultants are always at your service!

Brand Name Flooring

We carry the very best in brand name flooring, at great value. Whether you are looking for hardwood, laminate, carpet, vinyl or area rugs, we have it all and more!

Products at Your Fingertips

Feel the different types of carpets, run your hand over the distressed wood finishes, or experience the texture of our vinyls and laminates. Bring in your colour swatches!
About our Moose Jaw Flooring Store
Welcome to Floors Now in Moose Jaw, SK, located at 850 High Street West, at the bottom of the 9th Ave bridge, next to Gary Overs Kennels. We are a flooring specialty store that strives to provide great service and excellent value. We stock all kinds of flooring materials, and achieve lower prices by purchasing with volume. Our product offering includes solid and engineered hardwoods, luxury vinyl tile and plank, all types of carpet, laminate, vinyl flooring, porcelain and ceramic tiles, cork, area rugs, underpad and underlay. We also carry all manner of flooring accessories, including stair runners, hallway runners, flooring transitions, felt pads, etc.
We consider word of mouth our strongest sales method and we aim to go the extra mile to make sure our customers are happy.
"Great service and experienced staff are what makes us stand out."
Moose Jaw is our home. Our owner, Flooring Advisors, and warehouse staff are very connected to the Moose Jaw community, as we all live, play and work here. Dave O'Bright, the owner and operator of this location, has been in the flooring industry for many years, and is excited to bring his expertise to the community. He enjoys working with property management companies, commercial contractors, and homeowners alike.
Terry is a seasoned flooring expert, providing first class customer service for all your flooring needs. Terry is incredibly knowledgeable when it comes to flooring products, and can definitely help you with any flooring project you are working on, whether big or small.
Our flooring expert Bruce has all the knowledge and experience you'll need to help make the right choice for your home. Whether you're looking for something durable and cost effective, or you need help finding just the right look, Bruce will be able to help you every step of the way.
"It is important to build a good reputation and be able to look people in the eyes and know where you stand." 
From the moment you walk in our door, to the time you set foot on your new floor, we will give you the best service and value. We'll help you choose the perfect flooring to meet your requirements and aesthetic.
Our list of top brand names in flooring demonstrate our commitment to offering quality products, along with all of the manufacturer warranties that come with them. For a list of some of the brand names we offer, click here.
If you want to do a little online research our Flooring Guide has great articles. Or, you can build an Inspiration Board by choosing the flooring category of interest and picking photos that inspire you. Click here to get started on your Inspiration Board, where you can find ideas for your kitchen, living room, bedrooms, bathrooms, den, gym, laundry room, entryway, hallways, stairs and more. For every room in your home, we've got you covered.
Serving the Moose Jaw and neighbouring communities when it comes to all your flooring needs. Customer service is our first priority!
Products
Hardwood - Hardwood flooring increases a home's value for good reason. It undeniably adds class and refinement to any space, and can create a beautifully seamless flow between adjacent rooms.
Tile - Standing on hard stone gives off a natural sense of stability that has made tiles a preferred flooring choice for centuries. Tiles made of natural stone, such as slate, are widely recognized for conveying a timeless sophistication. 
Laminate - Today's laminate is exceptionally good at mimicking the beautiful effect of expensive materials, such as hardwood and natural stone, while providing a very practical advantage. Busy foot traffic, spills and dirt can take a heavy toll on some high-end flooring.
Vinyl - Vinyl is the preferred choice of many homeowners because of its practicality. In many ways, it offers everything you could want in a flooring product; not only is it affordable and easy to install and maintain, but it also comes in a variety of great looking styles and textures.
Carpet - Imagine yourself sitting in your newly renovated living room, complete with a brand-new beautiful carpet. You can rest easy knowing that today's carpeting not only looks and feels great, but is also pet-friendly, stain and wear-resistant, and easy to maintain.
Area Rugs - Bring a pop of colour to a dull room, or add a modern touch to an outdated decor, simply by putting down a well-selected area rug. Consider that a high quality, expensive rug can become a family heirloom or valuable antique. 
Cork - Cork floors have a visually rich texture, cushions feet, quickly recovers from dents, naturally insulates heat, and can last decades if properly maintained. 
Our Staff
Terry Ostapovitch
Flooring Expert
Bruce Murray
Flooring Expert
Contact Us
Have a question? We have the answer. Stop in to the store anytime, call us, or use the form to get the answers you need.
The quickest way to get in touch with us is to stop in or call. If you use the form, please give us a little time to respond.
Thanks!
don't know where to start?
Just come on down to one of our stores! Our friendly flooring design consultants will help you to figure out exactly what you need.
find a location
we love happy clients!
"The service is great from the Floors Now team! I can't wait till our floors are installed! #greatcustomerservice"
Mike Miller, via Twitter