As much as we like to hang on to summer, we swiftly get drawn to the reminder of autumn leaves, their colours and richness that the season can offer. Keep in mind that it is always exceptional to be swayed no matter how much you might be inclined to delay your wardrobe from bright to dark colours, the adjustment to time change and the soon to be holidays followed by Labour Day long weekend. This message comes to you in full form and like Father Time we keep following.
Yard work, Fall decorating and home improvements await our attention and bring us to the guides of what to do next, how to do it and where to find it. At Floors Now you will capture so many distinct varieties and selections at our stores. You can always find them in stock and ready for delivery.
Brands like Mannington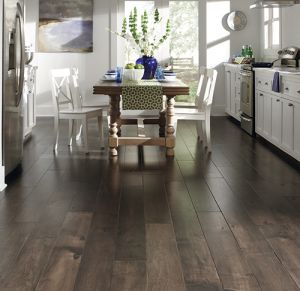 Along with a solid floor plan and concept of what you wish to have in your living area, we can help you find the appropriate style and brand that suits your home the best. This month's Focus is on Mannington (Residential).This is specifically of the Maison Collection. The hardwood is carefully handcrafted utilizing a number of textured effects to give the magnificent beauty that people only dream of. Along with Autumn's influence, this specialized hardwood is accentuated by it's own natural colour. A great starting point for all that it can offer a home like yours. You can go the Mannington site here to peruse additional exquisite floor types. While superior quality and resilience go hand in hand, you can count on Mannington to be environmentally responsible when creating engineered hardwood to preserve trees. There are variations to choose which direction you'd like to take. Come see us at Floors Now and share your dream. Dream big. It's all yours!
Inside and Out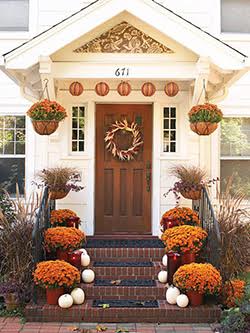 Aside from home renovations and improvements on the horizon, decorating your home should be no exception inside or out. Ways of making the example can begin with yourfront door autumn display. Here we can use bold colours in flower pots or any accessories that contrast with the brilliance of yellow and orange of both gourds and pumpkins. Don't forget your gardens and potted plants. Take care of your tropical perennials as needed. Bring in those that thrive on a warmer climate. Like flowers, you can install your favourite heartier foliage with the kind of endurance it should have to tough out the season yet colours dictate how brilliant your display should look. Here is more about your gardening checklist this fall.
Inside the living area you can pick your favourite seasonal craft and create a small project that will look like a work of art. Looks so smart you'll want to frame it. Buying these little additives are handy too, but c'mon it's of the season so let's try a little 'do it yourself (DIY)'. You'll have a great sense of accomplishment by the time its complete.
The great Autumn season is for changes, reflection and awe.
don't know where to start?
Just come on down to one of our stores! Our friendly flooring design consultants will help you to figure out exactly what you need.
find a location
we love happy clients!
"The service is great from the Floors Now team! I can't wait till our floors are installed! #greatcustomerservice"
Mike Miller, via Twitter