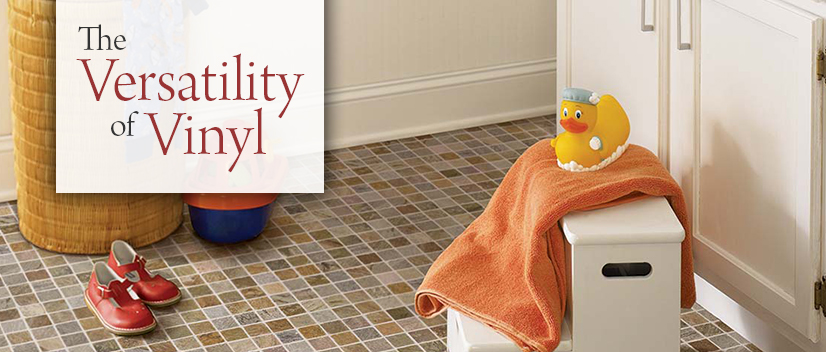 Why Vinyl Flooring Is Right For Your Home

What's muddy footprints, wet dogs, or spilled wine got on vinyl? Nothing! One of the most resilient and versatile types of flooring, vinyl can be used in every room of the house. Not only is it easy to keep clean, it's durable and comfortable too! Vinyl is a favorite for kitchens, bathrooms, entry ways, and any other high traffic area. In addition to being resistant to water, vinyl doesn't fade, stain, or dent, plus it's pretty easy to install yourself if you like to DIY.

Coming in a wide array of styles and textures, from sheets of vinyl to vinyl planks and tiles, the options are endless! With advancements in technology, vinyl flooring has been manufactured to be affordable, eco-friendly, and easy to install and maintain. . . this isn't your grandma's floor!  It's been around forever and the newer styles of luxury vinyl planks or tiles has been a game changer for the flooring industry.

Vinyl flooring is produced in many parts of the world, but especially in North America for both residential and commercial buildings such as offices, malls, and any manner of businesses. Such synthetic flooring has been around for decades and acts as a cost efficient substitute to natural floors such as wood, concrete, ceramic, and marble. With today's advancements in technology, it looks better than ever and even flooring experts have a hard time distinguishing between the two! While the general public opinion has shifted away from synthetic floors such as rubber and linoleum, vinyl is a different product altogether. Flooring manufacturers from all over the world have been producing vinyl flooring that is Eco-friendly and safe to your health.

The different types of vinyl:

Sheet Vinyl:
Sheet Vinyl is a large roll of vinyl flooring that has a layer of felt added to the back for strength and cushion, installed with an adhesive. It's the most common type of sheet vinyl, although there are other types, including vinyl backed and modified loose-lay vinyl. All require a different level of skill and knowledge for installation, so it's best to discuss any flooring installation project with a professional before attempting it yourself.

Vinyl Planks:
Vinyl plank flooring is an innovative type of vinyl that looks and feels like natural products such as hardwood or stone. It can be installed in moisture-prone areas that are normally "off limits" to hardwood and laminate flooring, such as basements and bathrooms. Vinyl plank flooring is also quiet and warm under foot, relatively easy to install, and requiring no adhesives for a beautiful, stylish alternative to other flooring products.
Vinyl Tile:
Not to be confused with vinyl planks, vinyl tiles are generally available in 12-by-12-inch squares with an adhesive backing, but can also be found in strips of three. Vinyl tile floors look very different from vinyl sheet floors which have fewer lines and seams. The regular pattern of lines in a vinyl tile floor is an important part of its design, adding to its authenticity. 
To care for your vinyl:
Vinyl provides an attractive look at an affordable price and it's easier to care for than most people think. To wash it, simply use a non-rinsing cleaner that leaves no film; most products sold as vinyl cleaners fit the bill. To keep your vinyl flooring looking new, follow these simple tips:
Use felt pads on all furniture to avoid scratching the floor.
Avoid putting rubber-backed rugs on vinyl flooring – the rubber can stain the floor.
Put a heavy-duty doormat at your front door and encourage visitors to wipe their feet. This is especially true if you have an asphalt driveway as the chemicals in asphalt can cause vinyl flooring to turn yellow.
Remove stains as soon as possible with an appropriate floor cleaner and wipe the area with a damp cloth to remove any residue.
don't know where to start?
Just come on down to one of our stores! Our friendly flooring design consultants will help you to figure out exactly what you need.
find a location
we love happy clients!
"The service is great from the Floors Now team! I can't wait till our floors are installed! #greatcustomerservice"
Mike Miller, via Twitter