Chevron Flooring Designs
Chevron is a popular pattern in an inverted V formation. This design has really made a comeback in retail stores and on Pinterest. From fabrics for bedding and clothing, to accessories like scarves, purses and jewellery, the chevron has gained lots of attention.
Positioned to remain a classic motif, it historically found it's roots in flooring. Many older homes, with floors over one hundred years old, display the chevron or herringbone designs. These old and beautiful hardwood floors may prove inspiring to the modern interior designer looking to make a high impact, or completely subtle, statement in her or his home. Depending on the flooring materials you choose, and the colour scheme, this way of installing floor planks is sure to continue in its timeless appeal. 
There are two general options for the home stylist: the "chevron" or the "herringbone" pattern. The difference between the two is, in the chevron design the material is cut on an angle so that the apex of the V meets squarely; in the herringbone design, the ends of the boards are straight and staggered, creating a slightly different effect. Both patterns evoke thoughts of fireplaces and beautiful views.
Chevron pattern on the left, herringbone pattern on the right: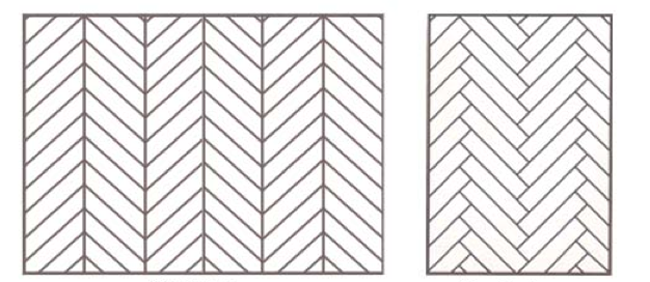 These patterns can be easily replicated by a certified flooring installer and, though it may cost you a bit more, the finished effect is sure to be worth it. Have a look at the links to some really cool rooms at the bottom of this article, and find your inspiration! The chevron looks great in any colour. Choose light blond wood tones for a fashionable feel, darker tones for a warmer texture. Be bold in your bathroom with long chevron or herringbone cut and installed tiles or luxury vinyl, and create accents with different shades or colours. In a livingroom or great room, it's typical to see understated furnishings with neutral colours and whitewashed walls. Alternatively, if your space has a more minimalist or industrial feel to it, chevron flooring is the perfect way to include personality & charm that will create distinction and stay in fashion through future trends.

Installing these classic designs is easy to do. For a chevron pattern, simply cut your desired flooring material on an angle. To achieve a herringbone design, stagger the planks at a 45 degree angle, and install as usual! Ask a Floors Now Flooring Expert to recommend one of our preferred installation partners. Chevron and herringbone patterns work with hardwood, laminate, tile, and luxury vinyl plank!
To include this pattern on your floor in a less permanent way, ask us about a chevron patterned Area Rug and pair it with brightly coloured cushions, throw blankets, and artwork. These elegant flooring patterns are more than a trend, they're a statement!

For some amazing and inspiring design and decor photos, follow these great links:
For contests and more great article links about interior design and style,
find us on facebook or follow us on twitter: @floorsnowcanada
Contributed by Stephanie Gilchrist.
don't know where to start?
Just come on down to one of our stores! Our friendly flooring design consultants will help you to figure out exactly what you need.
find a location
we love happy clients!
"The service is great from the Floors Now team! I can't wait till our floors are installed! #greatcustomerservice"
Mike Miller, via Twitter